Our CNC machining experts are here to help you get the components you need for your equipment.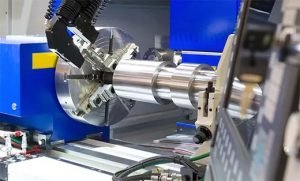 Here at A & A Machine & Fabrication LLC, we have been working in the fabrication business since 1957, which means we have over 60 years of experience in the industry. Over the years, new fabrication technologies have been developed, and our team has made sure to stay up to date with the latest advances in order to stay ahead of our competitors. One of the developments we have embraced most eagerly is CNC machining.
If you are unfamiliar with CNC machining, allow us to explain how it works. A CNC machine, or Computerized Numerical Control machine, consists of a flatbed (where the material rests) and a mechanized frame equipped with a cutting bit. The cutting bit is controlled by a computer in the device and will cut the material into whatever shape it is programmed to create. CNC machining allows us to deliver more precise results, as it greatly reduces the irregularities produced by human error. In addition, a CNC machine can cut metal and other materials much faster than we could do using manual tools, and it also minimizes waste in the process. If you want to learn more about the benefits of CNC machining, simply give us a call.
Our team is proud to serve the community here in La Marque, Texas, and we want to help you create the ideal components for your equipment. If you are interested in our CNC machining services, we encourage you to give us a call to learn more.