Our team has the right experience to tackle any machining project you have in mind.
At A & A Machine & Fabrication LLC, we are a full-service machining and fabrication facility that has been proudly serving the La Marque, Texas area since 1957. Our highly qualified and experienced technicians have the right skills to work on a wide variety of projects—we fabricate everything from piping to high-pressure tubing to coded vessels and more. If you are looking for a team you can trust to handle your next machining or fabrication project, we encourage you to turn to our experts.
In addition to manufacturing new equipment and infrastructure for your facility, our team can also repair and maintain the equipment you already have. Whether we have fabricated your tubing, etc. or not, we can restore it to excellent condition. We have worked with all kinds of clients over the years, with a particular focus on working with clients in the petrochemical, gas and oil industries.
We are familiar with the demands of a wide variety of industrial operations, and we can easily adapt to suit your needs. In addition, we are adept at reverse-engineering older equipment—even if your machinery is no longer manufactured, our team can examine the mechanisms and figure out how it works. Then, we can fabricate new parts to get it back into working order.
If you want to learn more about our machining services, don't hesitate to reach out to us at your earliest convenience. Our team will be happy to answer any questions you may have.
A & A Machine & Fabrication LLC is a full-service machining and fabrication facility near the Southeast Houston area that provides 24/7 support for emergency repair, regular maintenance, and new manufacture of goods and hardware for the petrochemical and oil and gas industries. A&A has geared its operations and work force to service specialty customers such as gasification, high pressure tubing (LDPE/EVA), and medium pressure piping (MPP), as well as pressure vessels, piping, various structural assemblies, and flanges and fittings.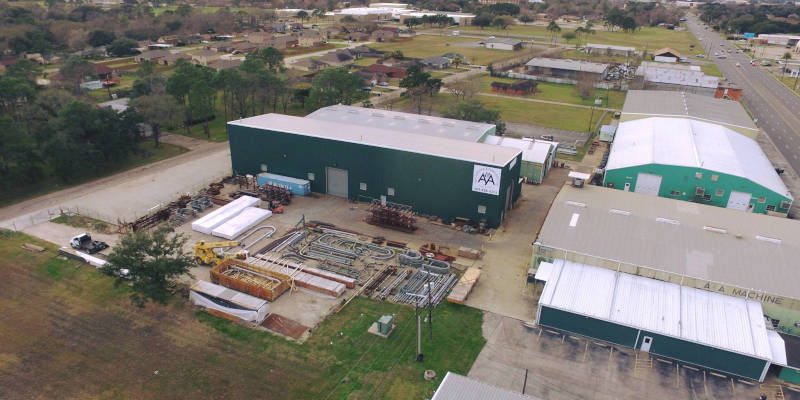 Currently, our facility encompasses over 82,000 square feet under roof and houses special purpose equipment such as autofrettage, electrical discharge machining (EDM), orbital welders, and thick-wall tube benders. In addition, we have a YamaSeki mill, Jimmy Jammer system as well as conventional manual and CNC machining capabilities.
A&A can take an existing part or sketch and reverse engineer all the dimensions to replace or upgrade according to the customer's requirements. Our engineering staff utilizes state-of-the-art COMPRESS, AutoCAD, MasterCAM, and Inventor software packages to perform detailed engineering calculations that can be stamped by our in-house Professional Engineering staff, designed and drafted to your specifications.
Our project management team can work with you and your EPC firm and develop detailed inspection plans, oversee your critical schedule through the manufacturing process, and deliver your product on time. This, coupled with our robust Quality Control Program, ensures that we consistently deliver quality parts and the necessary documentation that meets your needs. Quality is a constant in our production process with several full-time quality control inspectors employed.